Hello, seems that google does not like the video tutorial sites as I do get a warning message.
I tried the picture hosting function: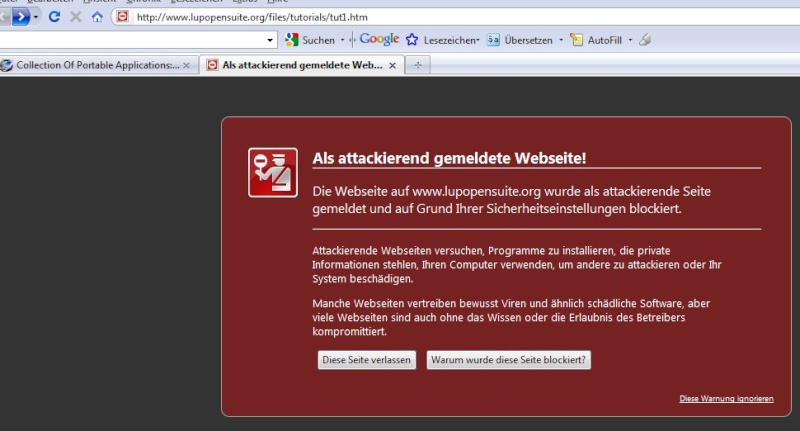 https://i.servimg.com/u/f66/15/06/03/10/google11.jpg
Any real thread behind this warning ?
Hermann



Number of posts

: 3


Location

: germany


Registration date :

2010-04-02



BTW: this is the information from Google:
Wie ist die gegenwärtige Einstufung von lupopensuite.org?

Diese Website ist als verdächtig eingestuft. Das Aufrufen dieser Website kann schädlich für Ihren Computer sein!

Ein Bestandteil dieser Website wurde in den letzten 90 Tagen 2 mal aufgrund verdächtiger Aktivitäten auf die Liste gesetzt.

Welche Befunde hat Google beim Besuch dieser Website festgestellt?

Bei 2 Seite(n) von insgesamt 3 Seiten dieser Website, die wir in den letzten 90 Tagen getestet haben, wurde festgestellt, dass Malware (Schadsoftware) ohne Einwilligung des Nutzers heruntergeladen und installiert wurde. Der letzte Besuch von Google auf dieser Website war am 2010-03-23 und verdächtiger Content wurde auf dieser Website zuletzt am 2010-03-22 gefunden.

Malicious software includes 4 scripting exploit(s), 2 worm(s), 2 trojan(s). Successful infection resulted in an average of 1 new process(es) on the target machine.

Die Malware wird in 2 Domain(s) gehostet, darunter ajijpqhathr.com/, pbcvezupthr.com/.

Bei der Verteilung von Malware an Besucher dieser Website fungieren anscheinend 1 Domain(s) als Überträger, darunter search.twitter.com/.

This site was hosted on 1 network(s) including AS31034 (ARUBA).

Hat diese Website als Überträger zur Weiterverteilung von Malware fungiert?

In den letzten 90 Tagen hat lupopensuite.org anscheinend nicht als Überträger für die Infektion von Websites fungiert.

Hat diese Website Malware gehostet?

Nein, diese Website hat in den letzten 90 Tagen keine Malware gehostet.

Wie kam es zu dieser Einstufung?

Gelegentlich wird von Dritten bösartiger Code in legitime Websites eingefügt. In diesem Fall wird unsere Warnmeldung angezeigt.

Nächste Schritte:

* Zur vorherigen Seite zurückkehren.
* Falls Sie Eigner dieser Website sind, können Sie eine Überprüfung Ihrer Website mit den Google Webmaster-Tools anfordern. Weitere Informationen über den Prüfprozess erhalten Sie in der Hilfe für Webmaster.

Sorry just got it in german...

Hermann



Number of posts

: 3


Location

: germany


Registration date :

2010-04-02



Thanks for the report and sorry for the issue: we have verified that someone hacked our mirror home page, adding malicious code. We have fixed it and reported the fixing to Google, asking to update their database.
Sorry for the issue again!

_________________
An all-in-one and completely free suite of portable programs and games: --> Lupo PenSuite
<--
Admin




Number of posts

: 386


Location

: Saronno, Italy


Registration date :

2008-07-30



---
Permissions in this forum:
You
cannot
reply to topics in this forum